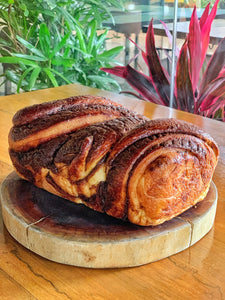 Dietary Note / Allergens: Dairy, Eggs, Gluten
A sweet and delicate braided brioche with a dark chocolate filling.
Please give us a 24 hours lead time to prepare for your orders. Not available on Tuesdays - unless ordered on Sunday before 5pm.
DISCLAIMER: All food photos are for presentation purposes. Price indicated is per piece or per serving or based on the weight as listed, unless otherwise indicated.