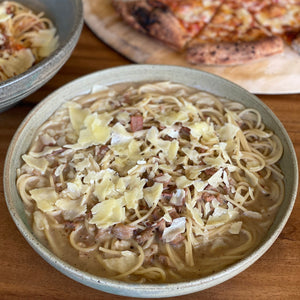 Allergens: Dairy, Soy
Description: A creamy black truffle sauce made with oyster mushrooms and smoked bacon. Excellent Source of Protein. No Artificial Colours and Preservatives.
COOKING INSTRUCTIONS:
Defrost all frozen items in the chiller. To heat in the boilable bag, place bag in simmering water in an appropriate size thick bottom pot for 5min while you are cooking your pasta. Pour the heated sauce out of the bag and into a pan. Place the drained, cooked pasta into the sauce and over medium heat, toss the pasta making sure it is fully covered with the sauce. Allow pasta a few sec to absorb sauce. Serve.

For heating in a pot, place pasta sauce in an appropriate size thick bottom pot. Bring to a slow simmer and allow to simmer on low flame for 5 minutes or until it is hot. Be sure to stir sauce occasionally. If you wish to have a thicker sauce, just reduce by keeping it on the heat for a bit longer until you reach the desired consistency. For a lighter sauce, you may add a small amount of purified water, stock, milk or cream.